News Overview
This year, the University of Freiburg's Faculty of Law will participate in the Philip C. Jessup International Law Moot Court Competition for the eighth time. We would like to invite you to become a member of our team!
As Moot Court participants, you will write memorials and prepare oral pleadings for your arguments. You will then have the opportunity to present these arguments in front of qualified lawyers, judges and prestigious professors. The team will be coached by two former competition participants so that it can reach a competitive level. The competition hereby offers a unique possibility to develop your oratory skills as well as your legal argumentation.
Thematic focus of the Jessup Moot Court 2019/2020 will be
multi-fora international litigation
accountability of heads of State for war crimes
killer robots / autonomous weapon systems
The informational event "Meet the Moots" will be held on Wednesday, May 29th at 10 a.m. in room 00 006, Wilhelmstraße 26. More information on the application process can be found here. The application deadline is June 13th 2019.
The team of University of Freiburg has reached the semi-finals of the German National Rounds of the Jessup International Law Moot Court Competition and scored fourth of 20 competing German universities. Emre Susamci was awarded as Best Oralist runner-up. Hence, the team was able to build on the successes of previous years and only closely missed out on qualifying for the International Rounds of the Jessup Moot Court in Washington, D.C.
The team was composed of Elisabeth Andersen, Björn Rieder, Emre Susamci, Mauritz von Wedemeyer and Henri Weidel. It was coached by Felix Beck and Friedrich Arndt and supported by Prof. Dr. Silja Vöneky and her entire team.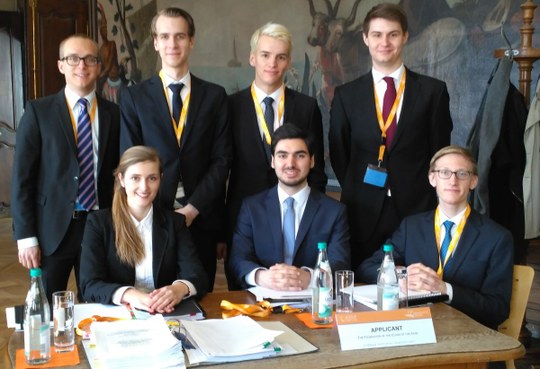 From left to right: Felix Beck, Elisabeth Andersen, Mauritz von Wedemeyer, Björn Rieder, Friedrich Arndt, Henri Weindel
Freiburg's Jessup Team wishes to thank all sponsors and supporters who made this year's participation in the Jessup Moot Court possible. A detailed report will follow as soon as the detailed rankings have been made available by the organisers.