Freiburg's Jessup team reaches semi-finals and features Best Oralist runner-up in German National Rounds 2017
The team of University of Freiburg has reached the semi-finals of the German National Rounds of the Jessup International Law Moot Court Competition and scored fourth of 20 competing German universities. Emre Susamci was awarded as Best Oralist runner-up. Hence, the team was able to build on the successes of previous years and only closely missed out on qualifying for the International Rounds of the Jessup Moot Court in Washington, D.C.
The team was composed of Elisabeth Andersen, Björn Rieder, Emre Susamci, Mauritz von Wedemeyer and Henri Weidel. It was coached by Felix Beck and Friedrich Arndt and supported by Prof. Dr. Silja Vöneky and her entire team.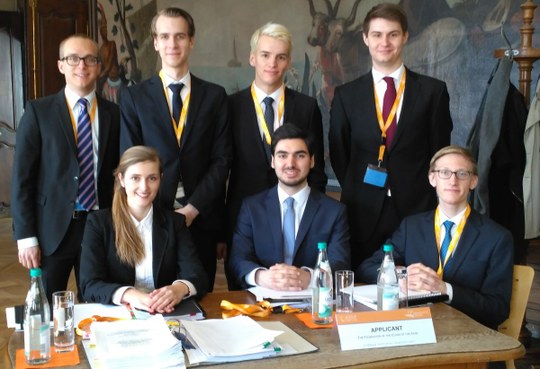 From left to right: Felix Beck, Elisabeth Andersen, Mauritz von Wedemeyer, Björn Rieder, Friedrich Arndt, Henri Weindel
Freiburg's Jessup Team wishes to thank all sponsors and supporters who made this year's participation in the Jessup Moot Court possible. A detailed report will follow as soon as the detailed rankings have been made available by the organisers.